The original organizer that does it all
First in, First out
Patented food storage rotation means your always eating food at its peak
Adjustable Sizing
Store exactly what you eat with dividers that adjust to your needs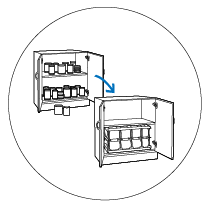 Save Time & Money
Easy orgainzation and inventory management means less waste and stress
Reviews
Ulitimate item for your organized pantry. Adjusts to different can size.
Very sturdy. Not flimsy at all. Perfect product to organize the pantry.
I was so excited to get this storage unit and couldn't wait to put it together. I am very happy with this can food organizer and love the way it looks and works in my cabinet!! I raised the shelf above so I could put cans on top as well for a little extra storage. Love love love it!!!!!!!
With 6 people in the house making dinner, many times the cans we had on hand weren't seen. As a result, items were either put on the list that we didn't need, or we did not have all the items we needed to make a meal. With this organizer, everybody knows exactly what we have and where it is. It is extremely sturdy. If I ever need another organizer like this, I will definitely buy another one of these.
I'm on an organizing kick right now and ran across this. Decided to get it to see if it would better suit my needs and it does!!! I'm totally happy with this purchase and recommend it to anyone who would like to become more organized.
These have been the best way for my canned goods. Plus they look great in my pantry and so easy to access my current cans. Wished I had found them years ago.
Our Story
For the last 20 years our passion has been creating products that simplify organizing your kitchen, reduce waste, and give you more time to do what you love.
This system has made such a difference in our food storage room. It's easy to add the new food while sending the old to the front for first use. I can now clearly see what to add to the grocery list at a glance. We're never out of anything. The space-saving is tremendous! The price is right, and the value is amazing.